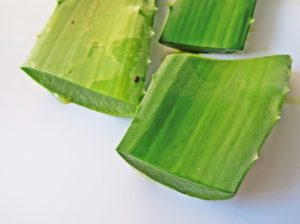 Many people see the claims being made on this site and others about the amazing beauty benefits of aloe vera.
Is it really that great for your skin?
Can you prove it?
The simple answer to all your questions is Yes! Aloe contains internal benefits for the body. Aloe vera juice contains leaf pulp that is rich in natural nutrients and fiber.
If you're tired of hearing that aloe has "all these vitamins," here's a definitive list of what you can find in this rich plant.
Aloe Vitamins
Vitamin B-12 (Provides your body with energy.)
Folic Acid (Helps make new cells.)
Choline (Helps sends signals between the cells.)
Vitamins A, C, and E (Serve as antioxidants that help protect cells against damage that can lead to lead to heart disease and cancer.)
Aloe Minerals
Calcium (strong bones)
Zinc (better immune and digestive function)
Selenium (prevent coronary heart disease)
Magnesium (essential for metabolic functions)
Chromium (provides enhanced insulin that gives cells energy)
Copper (helps in the formation of collagen)
Manganese (supports healthy bone metabolism)
Potassium (relief from stroke, blood pressure, heart, anxiety, and stress)
Sodium (Helps enzymes with muscle contraction)
Honorable Mention
On top of all that, aloe vera also contains ingredients that act as anti-inflammatories. These are helpful with any skin irritation. That's why it's used in a lot of skin-care products on the market right now. The hype on aloe is very justified.
We highly recommend that you look into growing and making your own aloe products to start getting all these amazing health benefits from one simple plant that's as durable as a cactus and one that you can buy for under 10 bucks.
Conclusion
The overview is that aloe vera helps boost your immune system and provides your bones, heart, and blood pressure some much need relief. It can also help you prevent cancer development.
All-in-all this is one useful plant.