Aloe Vera is a natural source of polysaccharides that facilitate skin repair and soothe swelling. Aloe Vera has both analgesic and antibacterial properties, meaning that it can alleviate pain and swelling and rid the skin of harmful bacteria. With Aloe Vera acne treatment, skin that suffers from acne is both soothed and protected from future outbreaks.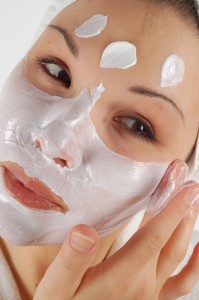 While Aloe Vera is typically soothing and nourishing, some people may find that it irritates their skin. Though it is uncommon, it may cause allergic reactions, including itchiness, redness, and rash. Before beginning an Aloe Vera skin treatment, test a small patch of skin with the product of your choosing.
There are many acne treatments containing Aloe Vera. Select one containing pure Aloe Vera rather than an extract, as they are more effective products. The following are the most popular Aloe Vera brands. They provide consistent acne-soothing results and give their users beautiful skin in which they can be comfortable and confident.
Aloe Vera Acne Treatment: Murad Exfoliating Acne Treatment Gel
Murad's Exfoliating Acne Treatment Gel blends licorice, chamomile and Aloe Vera into a gentle exfoliating serum that reduces redness and irritation while it restores clarity to acne-prone skin. Retinol, glycolic and salicylic acids work deep down to cleanse skin, but the treatment is gentle enough for daily use.
Aloe Vera Acne Treatment: Dermisa Acne Treatment Kit
The Acne Treatment Kit by Dermisa is a pair of products that is designed to give you radiant, acne-free skin. The facial bar is a soap containing medicating sulfur and the acne treatment cream contains benzoyl peroxide for rapid reduction of acne blemishes. Combined, the two heal existing acne and prevent further breakouts.
Aloe Vera Acne Treatment: At Last Naturals Acne Treatment Soap
At Last Naturals offers an Acne Treatment Soap with aloe Vera and sulfur that works below the skin's surface to treat the deep-down bacteria that cause acne and stubborn blackheads. Fragrance, dye and oil free, this soap clears existing acne and prevents future breakouts from occurring.
Aloe Vera Acne Treatment: Forever Living Aloe Activator
This product is an effective cleanser and astringent that is gentle enough for use around the eyes. Aloe Activator is composed of 99 percent aloe Vera gel blended with allantoin, an organic agent that promotes cell growth and renewal. Simply smooth Aloe Activator over the skin with a cotton ball to cleanse.
Aloe Vera Acne Treatment: DDF Ultra-Lite Oil-Free Moisturizing Dew
Doctors Dermatological Formula offers a moisturizer with vitamins A, C and E, Aloe Vera and grape seed to nourish the skin without oils, fragrances or artificial colors. Ultra-Lite Oil-Free Moisturizing Dew is great for those who use prescription and over-the-counter cleansers designed to dry acne up. It absorbs quickly into the skin without causing oily build-up.