As if there weren't enough signs that we need to abandon the processed food lifestyle pushed on us by the world's major food manufacturers. The latest obesity statistics released by a leading medical journal show obesity will hit 42 percent in the United States by 2030.
After years of rising obesity rates in the United States, recent obesity statistics show the rates may have steadied. But that may not be enough, according to a new report released on Monday – it estimates about 42% of the U.S. population will be obese by 2030.
The report suggests an additional 30 million Americans will be obese in 18 years. This would cost an additional $549.5 billion on medical expenditures, according to the report in the American Journal of Preventive Medicine.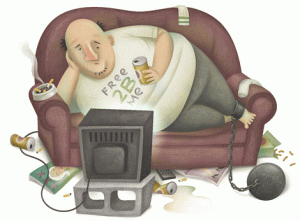 "If you could keep the obesity rates at today's level, you would save $550 billion," said Eric Finkelstein, lead author of the report.
About 35% of U.S. adults are obese today, according to the Centers for Disease Control and Prevention obesity statistics.
The obesity statistics were released at the CDC's Weight of the Nation conference, which is focused on preventing this growing health problem. A four-part HBO documentary with the same title begins airing next week.
Finkelstein and co-authors estimate that 11% of the population will be severely obese by 2030. Severe obesity is defined as a body mass index over 40 or being roughly 100 pounds overweight. Obese people have shorter life expectancies and greater lifetime medical costs, "suggesting that future healthcare costs may continue to increase even if obesity prevalence levels off," wrote the authors. – Source
When obesity statistics get that bad, we all lose. Just think about the healthcare costs alone. That's not only going to impact deductibles for those considered obese. The health insurance companies are as bad as big food, and they'll be passing costs on to your plan, no matter how many push-ups you do every day. 
But it isn't too late to not only stop the crisis from hitting epic proportions, but turn it around. Americans need more healthy diet options. Instead of opting for surgery, or diet pills that will only end in relapse, it's time to get more people on a healthy diet that combines healthy eating with a solid exercise routine.
There are countless programs to help combat the obesity statistics, like the Xtreme Fat Loss Diet, that will help people get back on track toward good health. We also need to stand up to the big food companies, write emails and letters. Demand more healthy and affordable options. If you are a parent, show up to school board meetings and demand healthy options in the cafeteria.