Here's a free natural weight loss tip: If you're on a diet and want to splurge on some junk food, do it in the morning.
Starting your morning with a high-protein food and a "dessert" — such as a doughnut or a slice of cake — may help you lose weight and keep it off, a new natural weight loss study suggests.
However, several nutritionists said they weren't ready yet to embrace the study's conclusions.
When researchers from Tel Aviv University's Wolfson Medical Center in Israel compared two diet regimens — one featuring a low-carbohydrate breakfast, the other a high-protein, high-carb breakfast — the sweets-with-breakfast group lost more weight after eight months.
"Although dietary restriction often results in initial weight loss, the majority of obese dieters fail to maintain their reduced weight," wrote the natural weight loss study's authors.
Diet-related weight loss often triggers hunger and cravings while decreasing suppression of ghrelin, a hormone that stimulates hunger, the researchers said. This may encourage weight gain. But, "a high protein and carbohydrate breakfast may overcome these compensatory changes and prevent obesity relapse," they concluded.
The findings are scheduled for presentation Monday at the Endocrine Society's annual meeting in Houston.
But at least two U.S. nutrition experts question the wisdom of encouraging regular consumption of sweet, calorie-dense, low-nutrition foods.
"A combination of protein and carbohydrates may have kept these study volunteers satisfied, but you have to pay attention to the quality of foods you're eating, too," said clinical nutritionist Lauren Graf at Montefiore Medical Center, in New York City. "You don't want to encourage people to eat a lot of foods with trans fats, like doughnuts, cookies and cakes." Trans fats, which are partially hydrogenated oils found in baked goods and other products, can raise blood cholesterol levels. – Source
If you do cheat for breakfast, you'll have to tow the line for the rest of the day. Here are a few foods that can aid in your weight loss.
Natural Weight Loss Foods: Mushrooms
Research reports that when people ate mushroom-based entrees, they felt just as satisfied as when they'd eaten those same dishes made with beef—though they'd taken in a fraction of the calories and fat.
Natural Weight Loss Foods: Eggs
In one study, dieters who ate eggs for breakfast felt full for longer and lost more than twice as much weight as those who got the same amount of calories from a bagel for breakfast. Think beyond breakfast, too: eggs boost a salad's staying power and make for a satisfying snack.
Natural Weight Loss Foods: Apples
For a mere 95 calories, a medium apple contains 4 grams of fiber. And recent research, published in the Journal of Nutrition, suggests that boosting your fiber intake may help you to prevent weight gain—or even encourage weight loss.
Natural Weight Loss Foods: Soup
Research published in the journal Appetite has shown that people who start a meal with vegetable soup eat 20 percent fewer calories over the course of their meal.
Natural Weight Loss Foods: Oatmeal
Eating a breakfast made with "slow-release" carbohydrates, such as oatmeal or bran cereal, three hours before you exercise may help you burn more fat, suggests a recent study in the Journal of Nutrition. Here's why: in the study, eating "slow-release" carbohydrates didn't spike blood sugar as high as eating refined carbohydrates, such as white toast. In turn, insulin levels didn't spike as high and because insulin plays a role in signaling your body to store fat, having lower levels may help you burn fat. Want options beyond oatmeal? – Source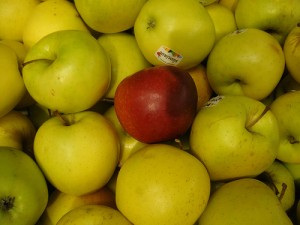 Of course, a doughnut in the morning and the right food is only one piece of the weight loss puzzle. You need a plan. At AloeVera.com, we recommend the 31 Day Fat Loss Cure, a proven program that has helped scores of people drop weight fast.
 No matter what direction you take with your natural weight loss diet, remember, there are no magic solutions. If you want to lose weight naturally, you'll have to put in some work.