Thank you for your interest in advertising on AloeVera.com.
Why Should You Advertise on Aloevera.com?
If you target health conscience individuals, those looking for natural remedies, people interested in alternative medicine, and you want to enhance your website or brand awareness, advertising on AloeVera.com is right for you.
AloeVera.com is the leading and premier domain in the Aloe Vera community. This website ranks well in search engines and attracts a readership who are interested in –
Aloe Vera
Benefits of Aloe Vera
Alternative remedies for things like acne, asthma, digestion, colon and more.
Natural skin care
Natural health supplements
Information and resources on alternative health care
If you target an audience that is interested in any of the above or related topics, an advertising campaign may work well for you.
---
Advertising Options
Banner Advertising
We offer 3 different options for banner advertising on AloeVera.com. You can see the different ad positions below. For more on these banner advertising options contact us.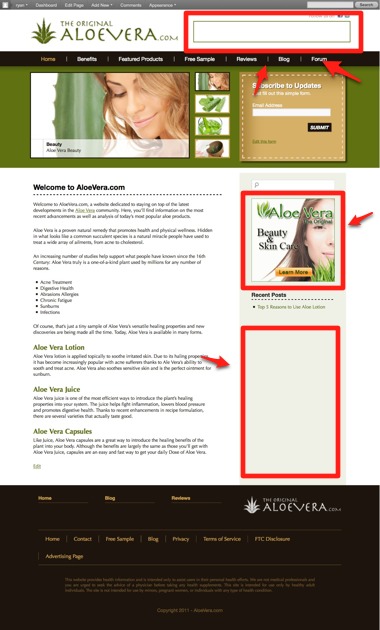 PRODUCT REVIEWS & GIVEAWAYS
Do you want to be part of the Giveaway's or Free Sample promotions we do at AloeVera.com? If you have a product review or product giveaway opportunity that you would like to see featured on AloeVera.com please contact us with an email containing:
Product name
100 – 300 words about your product
1-3 high quality product images
Once we receive your email we will contact you just as soon as we can for further details.
ADVERTISE WITH US!
AloeVera.com is the leading premium domain in the Aloe Vera market.  We provide the brand and authority that no other Aloe Vera domain can. If you wish to advertise with AloeVera.com, please contact us with the following information:
Name
Company
Phone Number
Email